Thunder Rise
A Novel of Terror
Crossroad Press, 2012, e-editions; and 2013, the audio book. Originally published by William Morrow, 1989.

First book of the Thunder Rise trilogy, which also includes Asylum and Summer Place. And just published in August 2015: sequel to the Thunder Rise trilogy, Drowned: A Different Kind of Zombie Tale. Also be sure to check out Since The Sky Blew Off, Vapors and The Beach That Summer, the three volumes of The Essential G. Wayne Miller Fiction, a colllection of short stories and screenplays.


About Thunder Rise, from the original-edition jacket:

Relentlessly gripping, this debut novel is classically responsive to the adage that fictional horror is far more vivid in daylit, familiar surroundings than in darkly dripping gothic vistas. Morgantown, an old, white clapboard and steepled town in the lovely Berkshires of western Massachusetts: America could have few settings as idyllic and inviting -- or as deadly. Up against the towering mass of Thunder Rise, the mountain behind which the sun sets every evening, Morgantown is cowering -- from a nameless, lethal and seemingly sourceless malady that threatens the populace through its most vulnerable members, the children.

Journalist Brad Gale, who has fled a broken marriage and given up a top New York job, has come to Morgantown seeker a serener life as editor of the local Daily Transcript. With him he brings five-year-old Abbie, "Apple Guy" of his eye. When the mysterious affliction strikes Morgantown's youngest inhabitants, signaled by soul-shattering nightmares of individual creatures of dread -- a bear, a wolf, a prehistoric carnivore -- and followed by an inexplicable wasting away, Brad knows it is a story to be explored in full. Then Abbie is stricken and Brad too must join in deadly battle with a force beyond rational imagining.

As more children sicken and slide toward doom, the struggles of the medical establishment seem increasingly futile. Even a trained and scoffing skeptic like Brad becomes reluctantly and belatedly drawn to listen to the beliefs and theories of Charlie Moonlight, a Quidneck Indian who speaks of the primordial demon lurking in the heart of Thunder Rise now stirring anew. At the end a battle of terror is drawn -- with the reader enlisted in as close and fateful combat as the printed page can ever afford.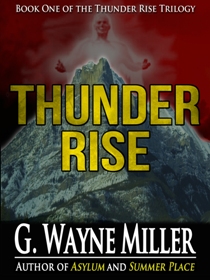 Order Kindle
Order Nook
Order Audio book
Order other formats, including iPad, PDF, etc.
Reviews
Excerpt
Cover art